<A NAME="top"></A>TABLE OF CONTENTS
<A NAME="biocurtisking"></A>Curtis King - Band Leader / Producer
CURTIS KING: MUSICIAN, ENTERTAINER, PRODUCER
Originally from Cleveland Ohio, home of Rock 'n' Roll and the Rock and Roll Hall of Fame, Mr. King has been passionately playing the guitar since he was 2 years old (that's over 50 years!). For Mr. King early in his life there was no doubt his passion was for music, and trains.
He has performed in the United States, Spain, China, Singapore, Vietnam, India, and many other countries in Asia. Adept at many styles and many instruments, and having lived and studied in some of the most interesting music capitals of the world, recently King has been focusing on a unique combination of jazz, blues, rock, classical, fusion, flamenco, with a touch of exotic "Eastern" sounds (check out "Take My Hand", using a Chinese 21-string zither). You will be sure to hear a few sounds that are new, yet pleasing, to your ears. Mr. King is also known to play a song or two on the Mississippi Saxophone (blues harmonica, that is), the bamboo flute, keyboards, and bass!
King leads the band with a fun, upbeat style, while playing guitar and harp, directing a very "live" show, and throwing in some fun surprises. Under the name "Li Ming" and "Le Van Teo", Mr. King has been performing for Chinese and Vietnamese audiences, singing and chatting in the local languages.

On the business side, Mr. King has been involved in the entertainment business in a professional way since 2000, when he joined Tower Records as GM of Tower Records Singapore. Since then he has formed Kingsworld Management (Singapore), an entertainment company that has been in partnership in Vietnam with Galaxy Studio (Vietnam's leading film, cinema and entertainment company). Productions include: Blues in Singapore; The Curtis King Band LIVE - Caught With Our Pants Down; Jazz in Singapore; Matthew Cadillac Cooper with the Curtis King Band: Here I Come With the Blues; Blues in Asia; Rock in Asia; The Curtis King Band - Horny in Vietnam; The Curtis King Band - Who Is Curtis King? Who Cares?

Curtis King successfully introduced EMI into Vietnam in 2007 - the first entry of a major record label into Vietnam.

In September 2007, Curtis King spearheaded the signing of an agreement between Galaxy Studio and Sony Home Entertainment to launch Sony Home Entertainment in Vietnam.

King owes any success he's had in business and entertainment in Asia to Thunderbird School of Global Management, where he got an MBA in 1991.
<A NAME="media"></A>NOTE FOR MEDIA
NOTE TO MEDIA RE PHOTOS Below are links for medium resolution photographs and the band logo. Click on the photo to open a new page with the hi-res photo, then (on a PC) right-click and then save the photo.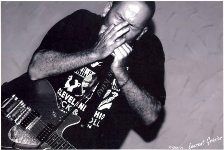 curtisking-harp-guitar-cleveland.jpg (634kb)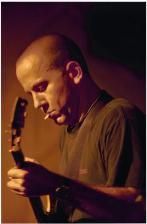 pickinmouth-color.JPG (1477 kb)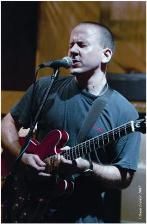 red335-towertshirt-color.JPG (1095kb)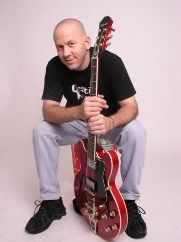 ck-sit-redguitar-garbagecan.jpg (1012kb)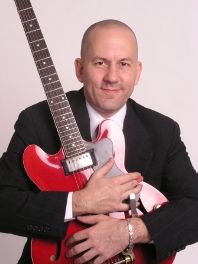 ck-suitredguitar3.JPG (2344kb)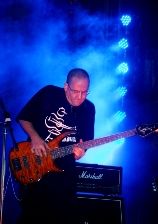 hueckbass.jpg (1696kb)

logockbnewonblack.jpg (203kb) (Sorry, currently not available in vector format)
We have other higher resolution photos and videos available upon request.
<A NAME="songlist"></A>CURRENT SONG LIST
CURRENT SONG LIST FOR THE CURTIS KING BAND
This is a representation of our current song list, organized by genre, in alphabetical order. Of course, a limited number of request songs that are not on this list can possibly be added to the performance by giving the band a bit of advanced notice. Each member of the band has many years' experience playing a wide variety of music - jazz, rock, gospel, blues, soul, big-band, country, disco, rap - and there is a very good chance that at least one member of the band is familiar with a requested song. In other words - we are rather flexible on what we can play. (For any event, if there are specific "must play" songs, even if they are on the list below, please confirm in advance.) ** OLDIES / OLD-TIME ROCK AND ROLL ** GET BACK - BEATLES GOOD GOLLY MISS MOLLY - CLASSIC ROCK AND ROLL GOOD LOVIN - GRATEFUL DEAD HOUND DOG / BLUE SUEDE - ELVIS JAILHOUSE ROCK - ELVIS JOHNNY B GOODE - CHUCK BERRY KANSAS CITY - BEATLES NEW ORLEANS - BLUES BROTHERS OLD TIME ROCK AND ROLL - BOB SEGAR ROCK AND ROLL - LED ZEPPELIN ROCK AND ROLL MUSIC - BEATLES ROCK AROUND THE CLOCK - BILL HALEY AND THE COMETS ROLL OVER BEETHOVERN - BEATLES SHAKE RATTLE AND ROLL - BILL HALEY STAND BY ME - CLASSIC HIT THE TWIST - CHUBBY CHECKER TUTI FRUTTIE - CLASSIC ROCK AND ROLL TWIST AND SHOUT - THE BEATLES WHOLE LOTTA SHAKIN - CLASSIC OLDIE ** CLASSIC SOUL ** DOCK O THE BAY - OTIS REDDING HARD TO HANDLE - OTIS REDDING HEY BABY - CLASSIC HIT LOUIE LOUIE - CLASSIC PARTY TUNE MUSTANG SALLY - COMMITMENTS ON BROADWAY - GEORGE BENSON ** DISCO / FUNK ** GET DOWN ON IT - KOOL AND THE GANG I FEEL GOOD - JAMES BROWN SEX MACHINE - JAMES BROWN SUPERSTITION - STEVIE WONDER ** 80S/90S/TOP-40 POP / ROCK ** SHOULD I STAY OR SHOULD I GO - THE CLASH STILL HAVEN'T FOUND WHAT I'M LOOKING FOR- U2 WITH OR WITHOUT YOU - U2 ** LATIN ** BLACK MAGIC WOMAN - SANTANA EVIL WAYS - SANTANA JINGO - SANTANA LA BAMBA - RICHIE VALENS SOUL SACRIFICE - SANTANA ** CLASSIC FEMALE VOCAL SONGS- JAZZ/SOUL/GOSPEL ** AINT NO SUNSHINE - BILL WITHERS ALL I WANT IS YOU - U2 CHAIN OF FOOLS - ARETHA FRANKLIN GIMME ONE REASON - TRACY CHAPMAN HEARD IT THROUGH THE GRAPEVINE - OTIS REDDING HIT THE ROAD JACK - RAY CHARLES I WILL SURVIVE - DISCO I'D RATHER GO BLIND - ETTA JAMES IKO IKO - CLASSIC OLDIE PROUD MARY - CCR RESPECT - ARETHA FRANKLIN REVOLUTION - TRACY CHAPMAN ROCK STEADY, SAVE ME - ARETHA FRANKLIN ROUTE 66 - CLASSIC JAZZ SAVE ME - ARETHA FRANKLIN SMOOTH OPERATOR - SADE SUMMERTIME - CLASSIC JAZZ SWING LOW SWEET CHARIOT - CLAPTON TEARS IN HEAVEN - CLAPTON ** REGGAE ** GET UP STAND UP - BOB MARLEY NO WOMAN NO CRY - BOB MARLEY STIR IT UP - BOB MARLEY ** CLASSIC ROCK ** AFTER MIDNIGHT - CLAPTON ALL ALONG THE WATCHTOWER - HENDRIX BABA O'REILY - WHO BORN ON THE BAYOU - CCR CAN'T YOU SEE - MARSHALL TUCKER BAND COCAINE - CLAPTON COME TOGETHER - BEATLES DOWN ON THE CORNER - CCR FEELIN ALRIGHT - TRAFFIC GET OFF MY CLOUD - ROLLING STONES GLORIA - VAN MORRISON HEY JOE - JIMI HENDRIX HONKY TONK WOMAN - ROLLING STONES JOKER - STEVE MILLER BAND KNOCKIN HEAVEN'S DOOR - DYLAN/ GUNS & ROSES LAY DOWN SALLY - ERIC CLAPTON LITTLE WING - JIMI HENDRIX MIDNIGHT HOUR - COMMITMENTS MIDNIGHT SPECIAL - CCR PROUD MARY - CCR ROADHOUSE BLUES - DOORS SUMMERTIME BLUES - WHO SUNSHINE OF YOUR LOVE - CREAM SUZIE Q - CCR SWEET HOME ALABAMA - LYNARD SKYNARD SYMPATHY FOR THE DEVIL - ROLLING STONES TAKING CARE OF BUSINESS - BTO TURN ON YOUR LOVE LIGHT - BLUES BROTHERS VOODOO CHILE - JIMI HENDRIX WHAT I LIKE ABOUT YOU - THE ROMANTICS WHITE ROOM - CREAM WILD THING - CLASSIC PARTY TUNE WONDERFUL TONIGHT - ERIC CLAPTON YOU CAN'T ALWAYS GET WHAT YOU WANT - ROLLING STONES ** BLUES / SWING / BIG BAND ** BEFORE YOU 'CUSE ME - ERIC CLAPTON CALDONIA - BB KING CROSSCUT SAW - ERIC CLAPTON CROSSROADS - ERIC CLAPTON DIMPLES - JOHN LEE HOOKER EVERY DAY I HAVE THE BLUES - BB KING FLIP FLOP AND FLY - BLUES BROTHERS HOOCHIE COOCHIE MAN - ERIC CLAPTON HOW BLUE CAN YOU GET - BB KING LONG GREY MARE - GARY MOORE MARY HAD A LITTLE LAMB - STEVIE RAY VAUGHN MESSIN WITH THE KID - BLUES BROTHERS NEED YOUR LOVE SO BAD - GARY MOORE PRIDE AND JOY - STEVIE RAY VAUGHN RED HOUSE - HENDRIX SKY IS CRYING - STEVIE RAY VAUGHN STORMY MONDAY - CLASSIC BLUES SWEET HOME CHICAGO - BLUES BROTHERS T-BONE SHUFFLE / ROCK ME BABY - CLASSIC BLUES THE THRILL IS GONE - BB KING WALKING BY MYSELF - GARY MOORE WHO DO YOU LOVE/HEY BO DIDDLEY - BO DIDDLEY WILLIE AND THE HANDJIVE - CLAPTON ** INSTRUMENTALS / JAZZ / JAMS ** ALL BLUES - MILES DAVIS BLUE BOSSA - JOE HENDERSON C JAM BLUES - DUKE ELLINGTON CANTALOOP ISLAND - HERBIE HANCOCK CHICKEN - MACEO PARKER COLD DUCK TIME - LARRY CARLTON GEORGIA ON MY MIND - RAY CHARLES GIRL FROM IPANEMA - JOABIM GREEN ONIONS - BLUES BROTHERS LOW RIDER - WAR MISERLOU - CLASSIC SURF MOONDANCE - VAN MORRISON PETER GUNN THEME - BLUES BROTHERS ROUTE 66 - MANHATTAN TRANSFER SLEEPWALK - CLASSIC SURF SO WHAT - MILES DAVIS SUMMERTIME - CLASSIC TENOR MADNESS TEQUILA - CLASSIC PARTY TUNE WATERMELON MAN. - HERBY HANCOCK WIPE-OUT - SURF ** ORIGINALS ** Many originals, including rock, jazz, etc. MY BABY'S SO FINE - Curtis King STEAM TRAIN BLUES - Curtis King SAIGON SHAKEDOWN - Swackhammer TAKE MY HAND - Curtis King Note: Artist names are not necessarily those of the original artists, but rather those of the artists whose versions are most widely heard. Some songs may depend on certain bandmember availability.
Back to the Top